Item #22046 - Obi (Fukuro)
description
This is a beautiful vintage Japanese fukuro obi. It is richly woven with metallic threads and silk threads. This obi is woven with touches of bronze, gold and silver threads and these reflect the light to create different and stunning effects. Fukuro obis are traditionally 70% covered with patterns and the reverse is usually plain or unpatterned. This obi is 70% patterned as shown in the photos and the remainder and reverse are plain cream, smooth silk. This obi would look terrific as a wall hanging, a table runner or across the end of a bed. It appears to be unworn and does not have the traditional stiff core.
condition
Excellent (beautiful clean condition)
dimensions
160 x 12 inches (406.4 x 30.48cm)
keywords
flowers and floral
price
$99.33 USD
SPECIAL!
$87.41 USD
full length

detail 1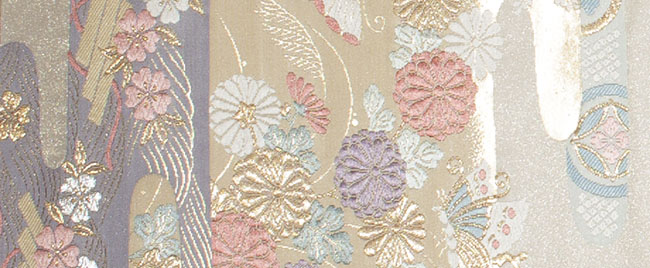 detail 2